Table of contents:
How to make a good LinkedIn profile? LinkedIn profile optimisation involves improving every part of the profile to showcase the best digital version of you that's meaningful to your ideal buyers. You need to complete LinkedIn profile keyword optimisation, structuring, and information updates.
Most salespeople recommend optimising LinkedIn profile to use it as a resume, emphasising your professional experiences. But it goes beyond filling out those fields. Think of it as a resource;  rather than a CV. Your LinkedIn profile should show what you do, how you do it, with proof to back it up. 
An optimised profile helps you showcase your expertise, attract buyers, and build credibility. Imagine it as your sales landing page. Buyers need to understand how your services or product is best suited to help them save money, execute a project, or address other pain points. The more compelling the profile is, the higher your chances of reaching buyers and driving leads. That said, let's look at how to make a good LinkedIn profile.
10 Ways of Optimising LinkedIn Profile For Sales
1. Choose a Professional Photo to Optimise LinkedIn Profile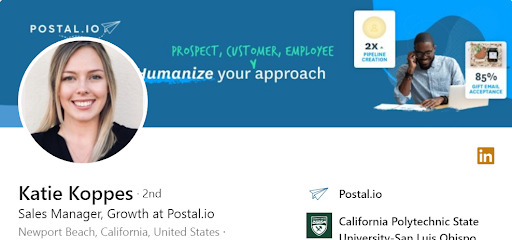 Image Source: LinkedIn 
To optimise LinkedIn profile as a sales professional, the first step starts with your photo. According to LinkedIn, profiles with pictures are 14 times more likely to be viewed. Selfies won't do. Neither will your company logo nor a blurry image of a good time at an event. Your professional shot should be a high-resolution picture that projects confidence. There are no clear-cut rules for choosing the right LinkedIn profile picture, but here are a few things professional LinkedIn profile development services do:  
Make sure you're the only person in the photo;

Smile; it makes you seem approachable;

Make eye contact with the camera;

Avoid busy backgrounds to optimise LinkedIn profile

Wear an outfit that matches your work dress code;

Use 400 x 400 pixels photos and a maximum file size of 8MB. 
2. Customise Your Cover Photo
For LinkedIn profile optimisation, couple your profile photo with a background image informing viewers about your offerings. It could be graphics or visuals that communicate your brand, tools of the trade, or the company's achievements and awards.
In the LinkedIn profile optimisation example above of a professional profile picture, the background image is customised to highlight what you can do with the product. The brand logo is also visible. A visitor can grasp the brand name and what their product can do at a glance.
Here is another LinkedIn profile optimisation example of an informative cover image.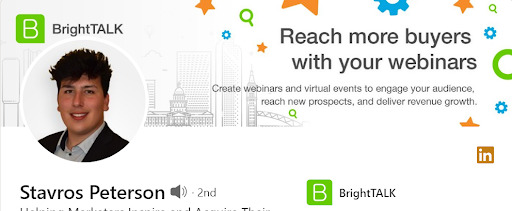 Image Source: LinkedIn 
3. Optimise Linkedin Profile With An Effective Headline 
By default, your headline displays your current job title and company name. But you can edit it to communicate value and optimise LinkedIn profile. Craft a headline that reflects what you do, who you help, and possibly your company name. It could be your job title followed by a simple sentence like 'Helping XX achieve [specific goal]' at [company name]. You have 220 character spaces to write what you need. Here's an example of a headline that captures these elements: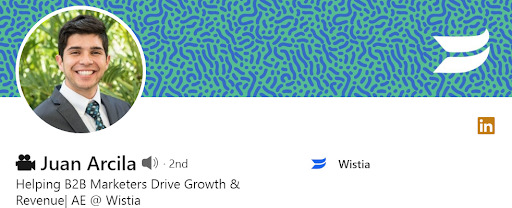 Image Source: LinkedIn 
Include relevant keywords optimise LinkedIn profile additionally. The goal is to improve discoverability and help your customers find you. What words do they use when searching for your services? Add them to your headline so you can appear in relevant searches. 
4. Tell Your Story In The Bio
The summary section is a crucial part of your LinkedIn profile. It builds on your headline, explaining what you do, how you do it, and why (if it applies). It answers the question: Why should buyers choose you?
Where most people fail is using this section as an extended CV, only listing their experience. This is not only overused and generic but is also rarely action-inducing. To get better results from LinkedIn, blend your skills, services, and results into a compelling story that inspires action. Here are a few tips for writing your bio:
It could be a relatable story, a question, a problem, or a promise. The purpose is to get readers to click to see more. Focus on a buyer-first approach. The example below hooks with an interesting question that makes you want to read more.

Image Source: LinkedIn 
Here is another LinkedIn bio that leads with a different angle—what he (and his company) does and who they serve.

Image Source: LinkedIn 
After what you do comes how you do it. Highlight your expertise to optimise LinkedIn profile. Avoid words like guru and wizard as they don't reflect actual skills (sorry, Harry). Communicate how you (or your solution) can help your audience solve the problem that impacts them the most. If you click more on the profile above, here is what you'll find: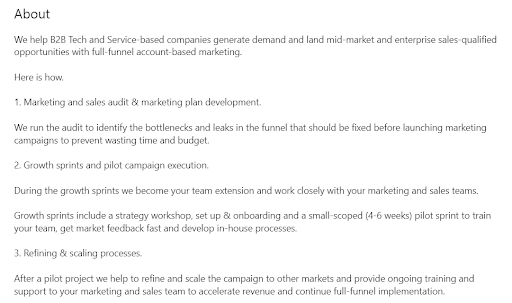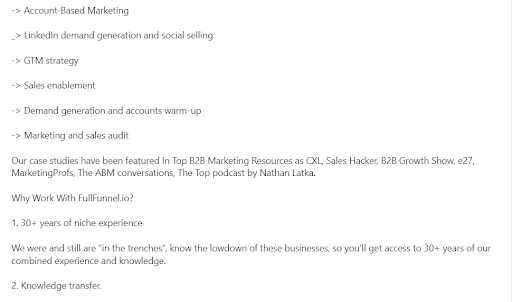 Include statistics or figures to quantify the results you've driven. How did your offerings help a client save costs, gain more clients, or optimise their process? You may include case studies. 

What do you want readers to do after reading your summary? Send you a direct message? An email? Or schedule a call? Write it. Also, add contact information where they can reach you. 
Think of words your prospects are searching with and add them in the right places within your summary (e.g., LinkedIn outreach, lead generation strategist, or account-based marketing).