Table of contents:
Are you struggling to find new ways to reach out to potential customers with your cold outreach program? 
It can be tough but not impossible to connect with people who know nothing about your existence. You have a good chance of attracting new potential clients even when there are so many other companies vying for their attention. But how?
Email and LinkedIn are two ways businesses have always used to initiate contact with prospective clients in the past and present, and you, too, can jump onto the bandwagon.
If you're new to email marketing, social media marketing, and LinkedIn cold outreach message templates, say no more! This article will guide you through how to cold outreach on LinkedIn and email, and the best practices to turn strangers into buying customers.
What is
Cold Outreach
?
Cold outreach is the process of initiating contact with potential prospects that are totally or partially unaware of your company or your products. It's usually done through some kind of marketing campaigns such as email, direct mail, telemarketing, or a combination of these.
Email and LinkedIn cold outreach are a little different from what many think of as "traditional" selling. Instead of connecting with prospects at their request, you initiate contact with them and give them information about your product to turn them into customers.
What Makes LinkedIn Messages Different From
Cold Emails
?
LinkedIn is a social network, and people are more likely to respond to the people they know and trust. To build that trust, you need to deliver value through your LinkedIn message. On the other hand, email is a communication channel used by businesses to find new customers and penetrate new markets.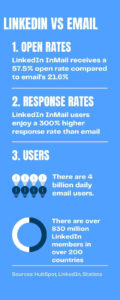 (Sources: Snov, LinkedIn, HubSpot, Statista,)
Here are a few general differences between LinkedIn and cold emails:
Engagement

– Unfortunately, most people who receive a

cold message

may not want to read it if they don't know the sender. Cold emails are often viewed as spam. As such,

cold emails

often get ignored, deleted, or marked as spam because they come from strangers who don't have a personal connection with the recipient. 
LinkedIn cold outreach messages can help capture your leads' attention more effectively because of the platform's professional reputation: people expect to get business-related communications on LinkedIn, so a message from a business professional may well catch their attention.
Personalization

– Most

cold email outreach

strategies end up in the prospect's junk box. The sender barely knows the person they're reaching out to or if they would ever be interested in your product/service. LinkedIn messages appear more personalised since the sender has access to more information about their connections than they would ever have about email recipients. 
Cold emails often come across as impersonal, which is a turn-off for the majority of people who receive them. Cold emails are sent from one person to another without any context or relationship between them. The communication format on LinkedIn is different — it's much more personal than an email because it's a message in their inbox rather than an email sent from an unfamiliar address.
In short, a connection request on LinkedIn is easier to talk to than an email recipient, provided that you have something valuable to offer.
The Email as a
Cold Outreach
Channel
According to statistics, there are more than 4 billion email users worldwide, with a majority of internet users having access to an email account. This makes cold email outreach a viable marketing option. However, how effective can it be?
Email Outreach: The Good, the Bad, and the Ugly
Email marketing is one of the best ways to keep in touch with your audience and build new relationships. With email, companies can create highly-targeted, cost-effective campaigns and get their message out to the world. Whether you are marketing your business, a product, or a service, you can use email marketing to reach your target audience wherever they are. 
The Good: Easy and Instant
If you are looking to reach out to and engage with your customers or prospects, email is probably the easiest way to go. It is one of the most popular and efficient customer communication channels. It enables you to communicate almost instantly with more people in a more personalised manner.
The Bad & The Ugly: Endless Spam and Fake Accounts
While email is a well-known communication channel, it is often abused and misused. There are endless spam emails, email distribution lists with fake users, and dubious links. Sometimes, it is hard to reach genuine recipients via email. New filters and advanced spam-detection algorithms may also work against your favour and make it harder to reach genuine recipients via email.