Table of contents:
Whether personal or professional, growth is only possible through learning and connecting with people. 
LinkedIn is the one social network that offers the priceless possibility of staying in touch with many experts worldwide. The platform unites over 690 million registered members.
Connecting with individuals and businesses across industries has never been easier. LinkedIn alone accounts for 80% of B2B leads compared to only 7% from Facebook. Hence, every professional should know how to connect on Linkedin.
In this step-by-step guide, learn how to connect with people on Linkedin and build a solid LinkedIn network.
Why Connect With People on LinkedIn?
Looking for a new job? Would you prefer sending your resume to a stranger from a job advertisement or someone you already know? Most probably, you'd choose the latter.
Here are some other reasons to build a high-quality LinkedIn network:
You can

connect via LinkedIn to

meet industry experts you can learn from. There's so much to learn from other professionals. Find these people on LinkedIn and strengthen your engagement with every interaction.

You get a chance to build a network of people who can boost your sales by connecting with old, current, and future clients.

79% of B2B marketers value LinkedIn as a source of leads.

LinkedIn creates endless opportunities for jobs and new clients. Increase your exposure to job offers, gigs, and other offers by building a network of recruiters, employers, and other professionals.

LinkedIn networks or audiences are easier to monetize because they're targeted and heavily engaged.
Let's now talk about how to connect with people on Linkedin.
How to Search For and Select Potential LinkedIn Contacts
When it comes to LinkedIn, quality beats quantity. You need to connect via LinkedIn with people that can really benefit your businesses (You'll discover how to add people on LinkedIn later in this article).
Here's a list of people you may want to connect via LinkedIn. 
Employers and employees at companies you want to work for.

Current and prospective clients.

Professionals within your field or area of business.

Recruiters within your industry.

Thought leaders and experts within your industry.

Present and past co-workers/college mates.

Donors, volunteers, partners of organisations you have relations with.
Here's how to search for and select potential LinkedIn contacts:
Use your existing network (Mutual connect)

. When you sign up to LinkedIn, you can easily connect with your email or phone contacts. Ask for existing (1st degree) connections to set you up with new target personalities. You could also be asked to

connect someone

to an existing member of your network.

Use the LinkedIn search bar

. Type in the name of a prospect, client, employer, colleague, expert, professional, company, organisation, competitor, etc.

Go to the 'People you may know' section

. A great tip on

how to find connections

is to use the 'people you may know' option under the network tab.

Check for 'People also viewed' on the sidebar

. You can see this sidebar when you open up a person's profile. This is

how to connect with someone outside your network on LinkedIn.

Vet Linkedin connection requests before clicking Accept

. While you're trying to reach out to other connections, you must also be getting some attention. To select the right requests, click on their profiles and take the time to investigate them.
How to Connect to Someone on LinkedIn: a Step-By-step Guide With Screenshots
Here's how to connect to someone on LinkedIn:
Send them a connection request, or accept one. LinkedIn connect notes can accompany a connection request to help recipients understand why they should accept your LinkedIn invitation.
Ensure to have a LinkedIn account because you won't be receiving LinkedIn invitations without an account. 
How to send a connection request on LinkedIn
How do LinkedIn invitations work? To send a LinkedIn connection request or invitation, click the 'my network' tab at the top of your screen.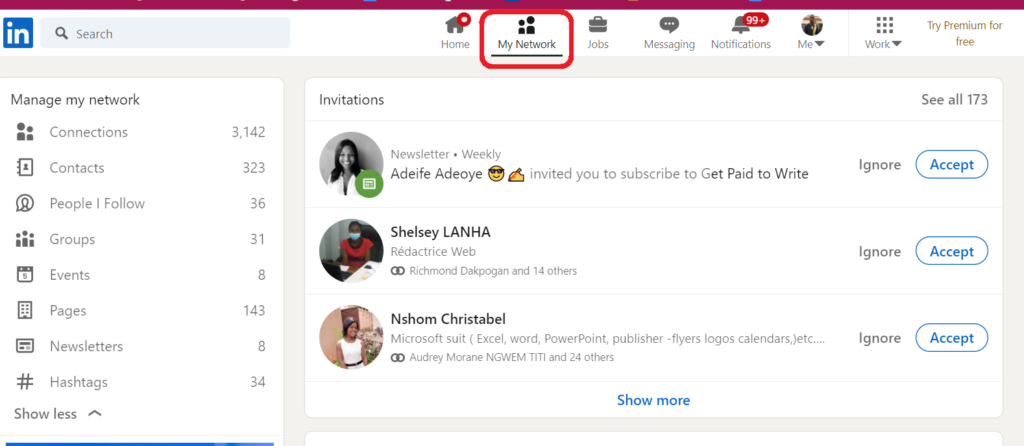 You'll find a list of people you may know based on LinkedIn suggestions. When you find a person you'd want to connect with, click on their picture to enter their profile or hit Connect. That's how to send a connection request.