Table of contents:
How to Use
LinkedIn Automation Tools
(+Outreachly Guide)
The power of LinkedIn lies in connecting with people who share your interests. Once you start connecting, you can leverage your influence to find new business opportunities. LinkedIn has become the preferred platform for many companies and sales teams looking to solidify their lead generation and prospecting efforts. The numbers prove it. Content Marketing Institute observed that LinkedIn is the top social media advertising option for 96% of B2B marketers.
However, managing and monitoring social media accounts is a tricky business. Between the hundreds of different social media profiles you have, the different types of posts they produce, and the different hours they operate. 
That's where automation comes to the rescue.
Automation tools considerably impact social media marketing, and LinkedIn and email automation are no exception.
You can use a LinkedIn outreach bot to schedule your content distribution, send connection requests and follow-up messages to people who visited your profile and even grow your network beyond your influence on LinkedIn.
Here's how to use LinkedIn automation the right way based on Outreachly.
What are
LinkedIn Automation Tools
? 
LinkedIn automation tools are software solutions that enable marketers to streamline and automate tasks on LinkedIn. These tools include features that help you manage your company page, run personalised campaigns, expand your network, and measure the impact of your LinkedIn efforts.
You can use LinkedIn automation to:
Manage your LinkedIn company page

Expand your network

Manage your LinkedIn profile

Track engagement metrics

Send connection requests and messages
With tools like these in place, you can spend less time on LinkedIn and focus more on scaling your business.
Benefits of
LinkedIn Automation Tools
As the LinkedIn network expands and grows, so does its complexity. This can make it seem like you're never going to get to know your followers or keep track of your connections. The good news is that with a little bit of help, you can manage your LinkedIn network better. 
Here are some of the benefits you can expect from automating outreach LinkedIn tasks:
Save Time
From task management to social media scheduling, the growing automation market makes it easier than ever to save time. Your social media marketing team no longer has to spend hours on manual work. Instead, they can focus on closing more deals while LinkedIn automation tools take care of the rest.
LinkedIn Connection Management
There is a growing need for professionals and businesses to have a network of people that can help them grow. However, manually managing these connections can be pretty hectic if you have hundreds or thousands of contacts.
LinkedIn automation helps you streamline the connection management process. A good LinkedIn automation tool will allow you to filter through thousands of connections by job title, seniority level, or industry and stay connected with the right people at the right time. 
Improves Reach
The more connections you have, the better. With a LinkedIn outreach bot, you can reach people automatically, based on your preferred demographic info and business needs.
Provides Access to Valuable Metrics
Using a LinkedIn automation tool like Outreachly provides access to key metrics on your campaigns, such as open and click rates and how many people reacted or replied to your posts. With this essential information, you can quickly identify the campaigns that perform well or need restructuring.
Pros and Cons of
Linkedin Automation
Today, businesses of every size and industry are looking for ways to cut down on costs and increase productivity without sacrificing quality. By automating routine tasks, you can save time and focus on delivering excellent customer service and creating great content.
Here are the pros and cons of using LinkedIn automation software summarised:
Pros
Little Human Intervention

.

LinkedIn automation

software handles a lot of manual work in prospecting, nurturing, and finding leads. This means less human interaction, which eliminates costly human errors, fatigue, and unforeseen delays.

Frees Up More Time

.

LinkedIn automation frees up time by performing manual tasks on your employees' behalf. They can spend this time developing more in-depth content or building customer relationships outside LinkedIn.

Easy Lead Processing

. If you have a steady flow of new leads that need similar follow-up action, automating the process ensures that a specific group of similar leads gets treated the same way. For example, if you want to send an introductory email to anyone who joins your network, automating the process ensures that no one gets left behind.
Cons
Risk of Fewer Genuine Connections

. As long as you're running

automated LinkedIn messaging,

you risk coming off as generic or spammy. People skip spammy content and may even report you to the platform's administration. Make sure your messages are personalised for every contact so that people will want to respond to them.

High Cost of LinkedIn Automation

.

Automation tools don't come cheap. Most services charge a monthly fee for their software or service. If you're only going to use the tool once in a while or don't spend much time on LinkedIn, investing in automation may not generate enough results to balance the cost. 
How to Use
LinkedIn Automation
With Outreachly (With Screenshots)
Outreachly is an AI-powered automation tool for your LinkedIn marketing campaigns. From automated lead generation to automated sales, Outreachly provides the most comprehensive solution on the market.
Here's how to set up LinkedIn automation with Outreachly:
How to Set Up an Outreachly Account (Free Trial Version)
Visit outreachly.ai and click the Free 14 Day Trial link in the footer menu.
You will need to provide some details.
After you've entered all the necessary information and clicked on the Create my account button, you'll receive a welcome email with basic information to get started.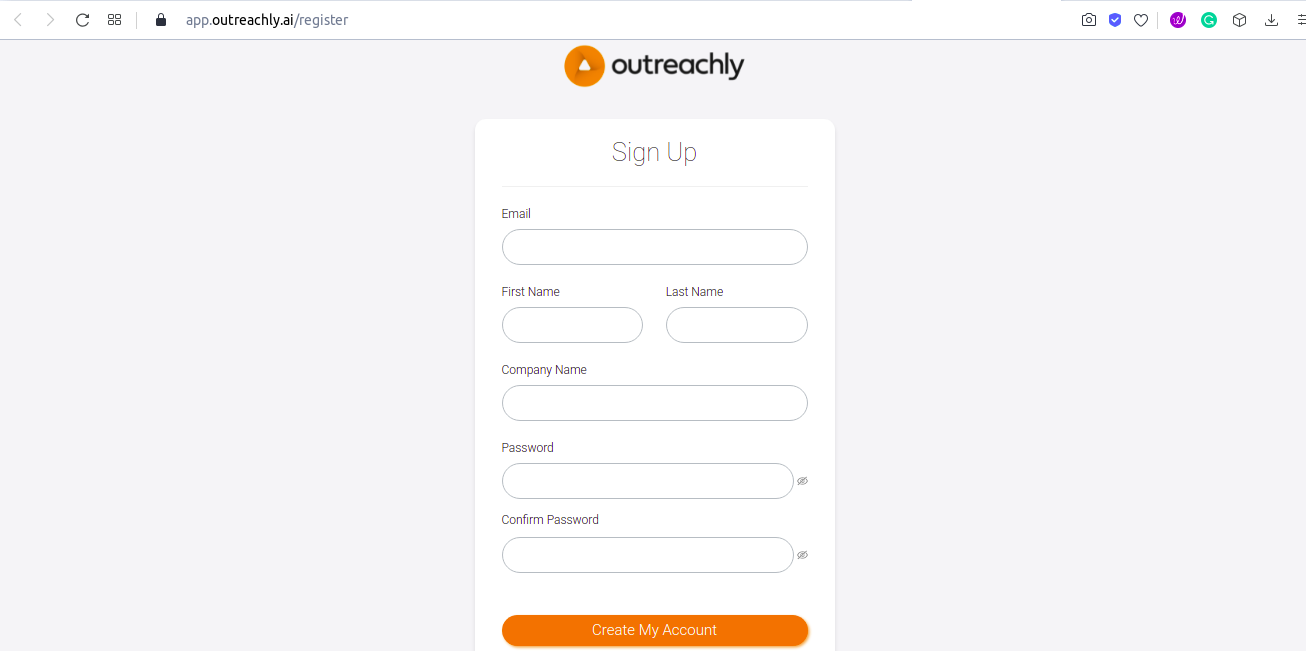 Once you log in, the next step is to add a LinkedIn account.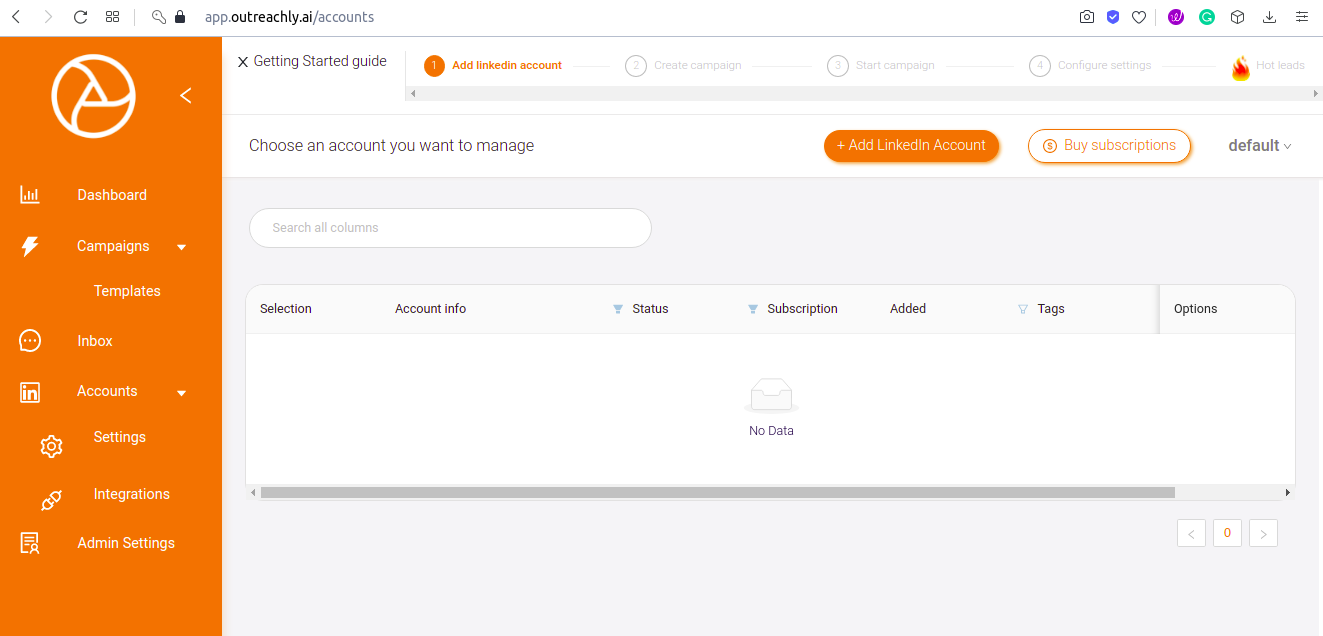 You'll receive a PIN in your email to proceed. Enter it to complete the registration.